Here's what I spent my Sunday doing...




Fingering, 80/20 Merino/Silk
Hand-painted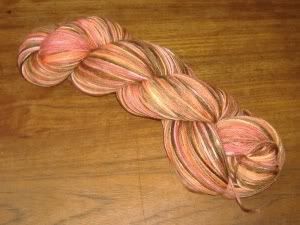 Fingering, Merino
Kettle-Dyed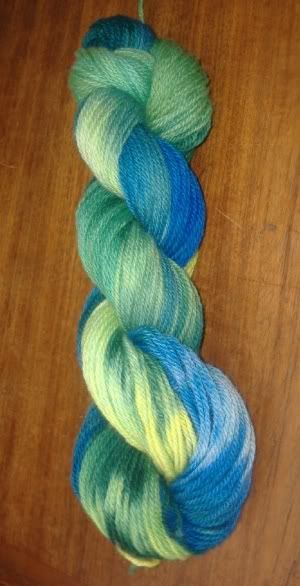 Worsted, Merino
Kettle-dyed






Worsted, Merino
Kettle-dyed


I so love using my acid dyes. It takes a lot more prep-work than using Wilton's, but the actual dyeing process is quicker and I am loving the results. It is very interesting that I used the exact same stock mixtures for the two fingering-weight yarns and the difference came from the dyeing method. The hand-painted is very dark and exact while the kettle-dyed has a softer, washed-out look to it. I'm thinking
Bengal
as a name for the hand-painted colorway, and
Sandstone
or
Autumn Wood
as a name for the kettle-dyed colorway.
Aquamarine
is a logical name for the turquoise-colored skein, so I think that's a keeper. Nothing screams out to me for the Blue/Green/Yellow one, the names I have bumping around my head all seem cumberson or don't do the color combination justice.
Before I get too far ahead of myself, I am going to try to recreate the two kettle variegateds tonight or tomorrow night. I took lots of notes, so lets hope that is enough.
Thanks for looking!